Part Five – The Paper Museum
The Paper Museum of Cassiano dal Pozzo
'THE 'MUSEO CARTACEO', or 'Paper Museum', is a collection of more than 7,000 watercolours, drawings and prints, assembled during the seventeenth century by the famous Roman patron and collector, Cassiano dal Pozzo, and his brother Carlo Antonio dal Pozzo. It represents one of the most significant attempts ever made before the age of photography to embrace all human knowledge in visual form.'
https://warburg.sas.ac.uk/research/research-projects/paper-museum-cassiano-dal-pozzo
You tend to forget that drawing and painting were our only means of recording information before technology came and 'improved' our world. Had the world not made progress and other methods of storing the information not come about how immense would this collection now be. Windsor Castle is just down the road from me and I would love to see some of these prints in there reality.
Citron, Citrus medica by Vincenzo Leonardi, Museum no. E.426-2009
You can arrange by appointment  to view three watercolours at the Victoria and Albert Museum , one of which is pictured above. This abnormal lemon is beautiful in its deformity.
It's wonderful to think that these images are in existence It would be more wonderful too if this method of record keeping could be maintained alongside more modern methods.
Artists
As always I will go through all the artists very briefly just to fill in gaps in my artist knowledge and hopefully use them at a later date. I have found this a useful tool throughout level one and it has held me in good stead in different modules.
Charles Avery
Avery's little glimpses of everyday scenes capture a sense of movement and fiction . I like the simple monotones of the composition with it's little flashes of colour to draw your eye in.
Mike Nelson
Mike Nelson, Gang of Seven, 2013, mixed media
Mike Nelson's collection of seemingly random objects coagulates together to form totem like constructions. There is a beauty in their isolation from each other.
Anna Atkins
I love Anna Atkins beautiful Cyanotypes they have a fragility to them enhanced by the almost layered surface of the photographic image.
John James Audubon
Ornithologist Audubon creates these beautifully detailed renditions of birds within their environment I know a lot of people would find these antiquated but I feel they have a real timeless quality to them.
Maria Sibylla Merian
Stylised and beautiful, The grotesqueness of the the insects as they approach to devour the fruit makes you feel slightly uneasy.
Mary Delaney
Very similar to Merian's work. The addition of a deep toned background adds a new dynamic,
Karsten Bott
This installation by Bott looks almost like a church jumble sale with everyone's rejected belongings collected together. I suspect that if you stand on the platform above it you will be able to spot some item that will trigger a long forgotten memory.
Christian Boltanski
There is something deeply touching about these boxes they feel like parcels of memory as if someones whole life could be packed up and put away. Is this all we get to leave behind? If so what would you put in the box?
Marcel Broodthaers
Marcel Broodthaers, "Untitled (Triptych)" (1965–66)
George Shaw
George Shaw, The Old Religions, 2017, humbrol enamel on canvas 46 x 55
George Shaw's renditions of everyday environments turns the mundane into something of beauty. Take the ramshackle nature of the broken down shed in the painting above, he has given it's moss laiden boards a peaceful end as it lies abandoned and neglected.
Lisa Wilkens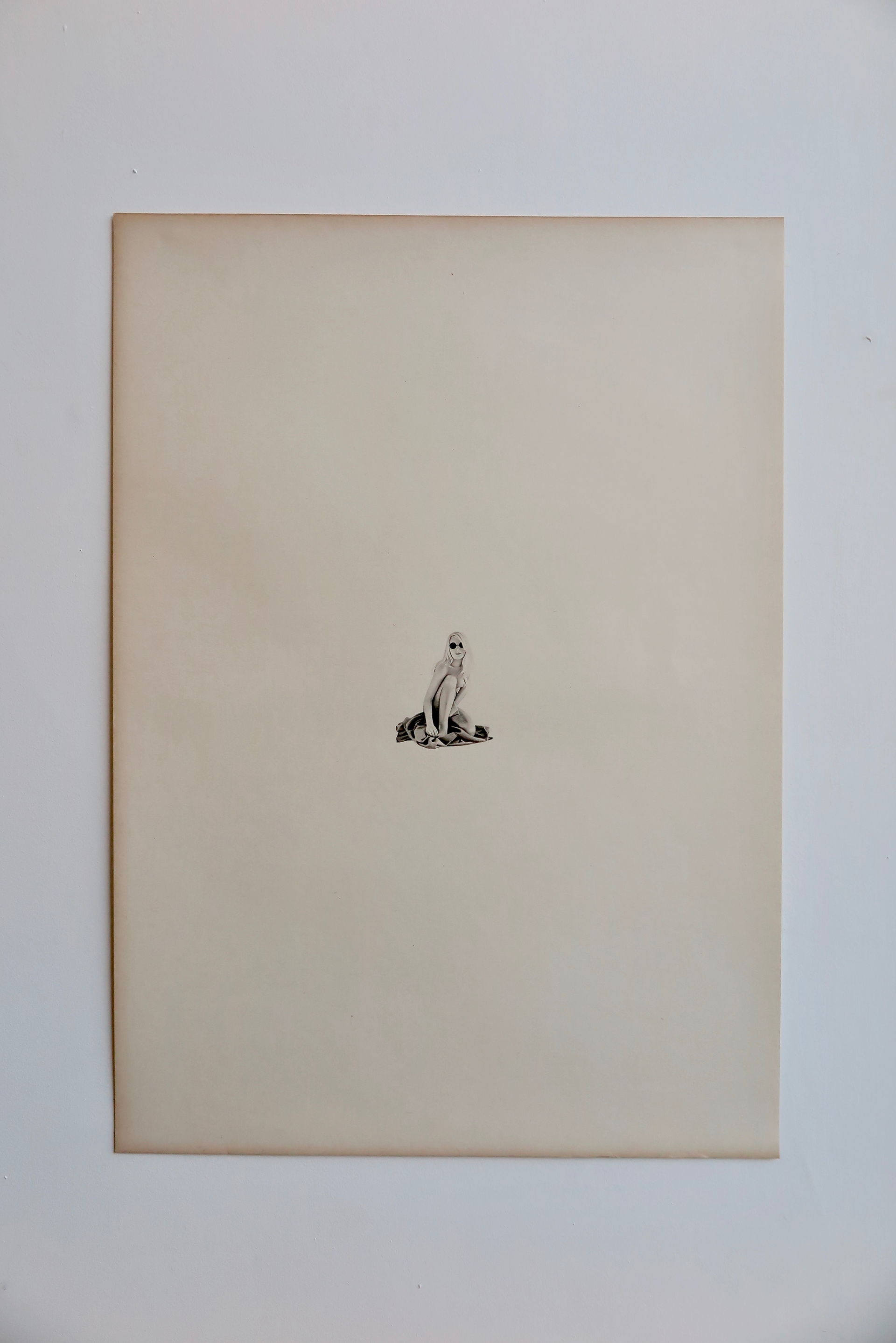 Lisa Wilkens 'I See You' Chinese Ink on Found paper61 x 43.4cm 2016
Wilken's tiny little drawings that seem to float in the centre pin your gaze to them making you search for their meaning.
Hayley Field
Hayley Field 'Reeds' – Oil on board
Strong textural mark making is the main focus is this painting the marks look almost gouged out of the surface of the canvas.
Nathan Eastwood
Nathan Eastwood 'Bored' Enamel on board 2014
Almost photographic in their execution these deeply personal paintings capture routine moments from daily life. Eastwood depicts reality in all it's sadness because there is something quite moving in these pieces maybe it's the isolation that they make me feel.
Robert Priseman
Robert Priseman'No Human Way to Kill: Lethal Injection' size 153cm x 153cm, date 2007-08, oil on linen, 
The stark rawness of this painting is brutal. it's death brought back to the bone. No frills, no prettying it up. Just a table with straps to hold it's occupant accountable. What I presume is a viewing window to the left reminds us that there  are always people left behind, whether it be families of the murdered or the murderer.
Kathy Prendergast
Kathy Prendergast, Window Series 6, 2018, giclée print
Looking out or looking in? The glow of light outside or within is untold in this painting by Prendergast. There is no light cast either way.
Tanya Wood
There is a beauty in the simplest of objects. Here this paper bags with its peaks and valleys looks like a landscape on close examination. its soft tones give a sense of depth and immensity to an insignificant object.
Cornelia Parker
Thirty Pieces of Silver', Cornelia Parker, 1988-9 | Tate
As biblical as the title sounds I was slightly disappointed that this image wasn't a painting but on watching a YouTube video on it's creation. I was fascinated by the delicate precision needed for all the elements to be hung separately in the round. It would have been quite a thing to see this installation in it's entirety as a video or a photo doesn't quite have the same feel.
James Quin
The tonal simplicity of this work by James Quin is quite lovely with a muted soft palette he has captured the surface of the soap perfectly and the highlight down the side gives a lovely sense of form.
Archie Franks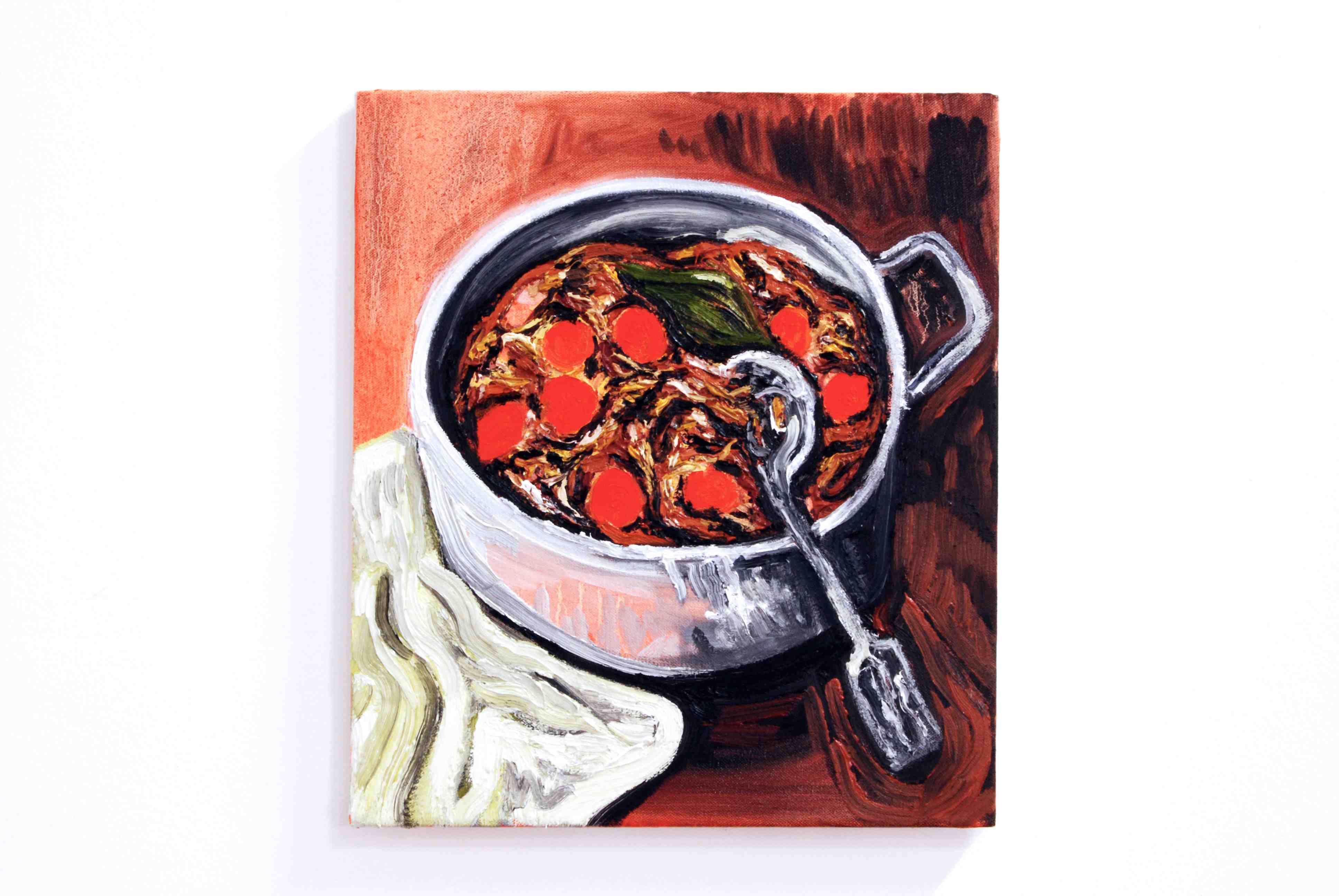 Archie Franks, 'Insanely Good Oxtail Stew'
It makes me want to eat stew, although preferably not oxtail…eww. There is something very organic about the brushstrokes and the warm tones to this piece. I particularly like the way that the table top is reflected on the china of the bowl.
Tim Stoner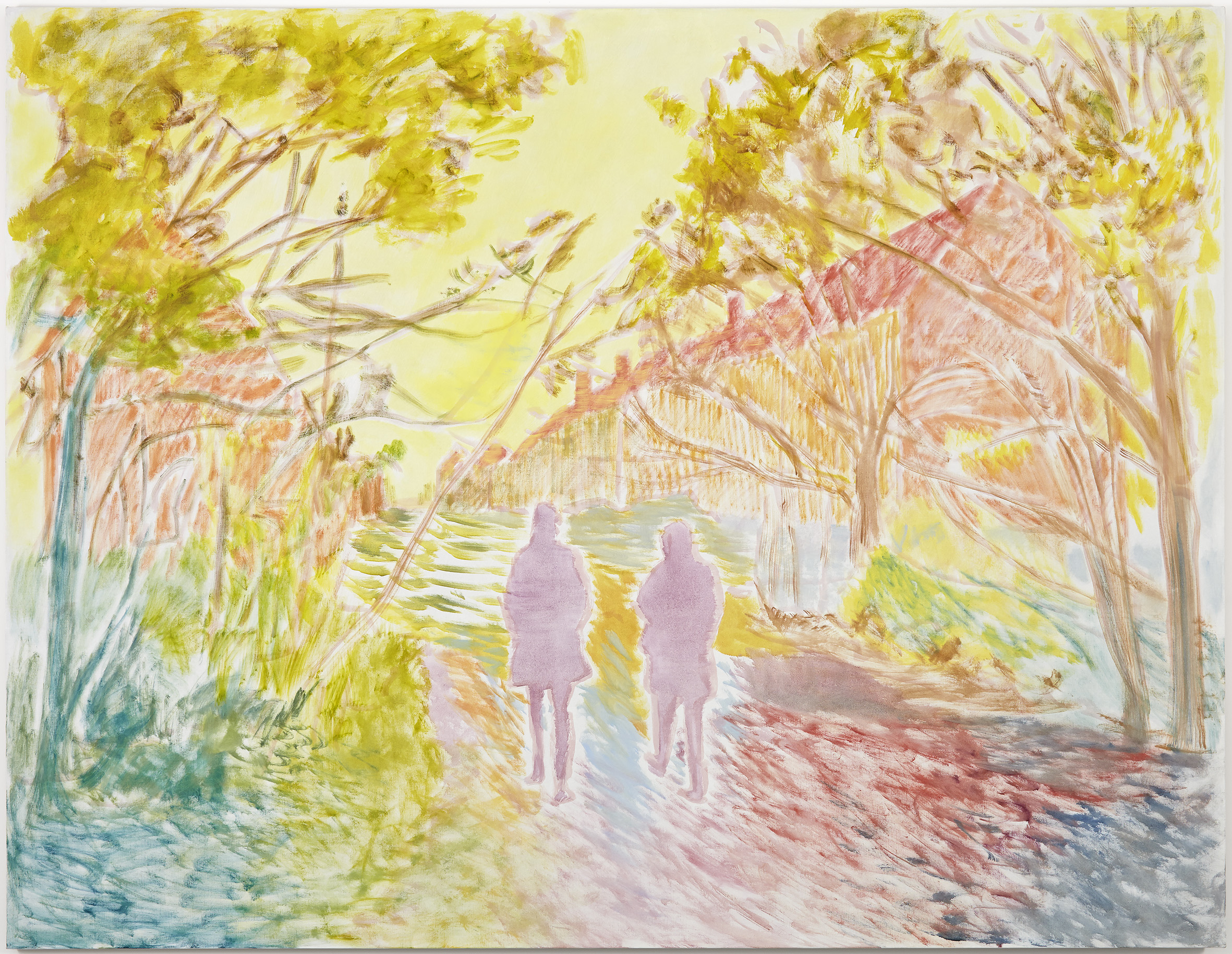 Tim Stoner, Essex, 2014
This reminds me of those computerised images that you see when they are heat sensory. The flashes of hot and cold colours that surround the walkers as they take a stroll. It's calming and serene.
Karen Densham
Karen Denbsham 'Choker'  2014
Denbsham really explores her dark side with these altered Beatrix Potteresque images. You really don't get much cuter that Potter's beautiful renditions of Peter Rabbit and co but these are something more sinister. They make you feel uncomfortable as your brain tells you that is not what you are supposed to be seeing
Terry Bond
Mario Rossi
Mario Rossi 'Travellers'
Out of these two photographic images, I prefer the second by Mario Rossi. I like the patchwork layering effect and the slightly translucent nature of the print. the first could have been taken by anyone
Michael Landy
Michael Landy, 'Nourishment', Creeping Buttercup 2002
I love the entirety of this work. There is a beauty to it's simple form and delicate flowers. The knot of roots at the base is a work of art in itself.
 Walter Sickert
Out of the the artist suggested we were advised to look at three in further detail. The first that I have chosen is Walter Sickert.
'Ennui' 1913
'Le lit de curve' 1906
Walter Sickert 'La Hollandaise' 1906
'Ennui', Sickert's most popular painting with it's view of a melancholic woman staring wistfully at the birds frozen in time and trapped behind glass in the same way she will be trapped forever for the painting is powerful in it's own right but for me it's the barely discernible nudes such as 'La Hollandaise' and 'Le lit de curve' that capture me and draw my eye. 'La Hollandaise' currently on show at the Tate which I went to view recently has an involvement, an intimacy to it's brushwork and the play of light across her figure as she reposes on the bed. I like the subtlety of the colours that run along the length of her leg the soft blues that glimpse through the skin tones give a wonderful sense of form. I had the opportunity at a life class recently do a Sickert style piece. The lighting was perfect and although the angle was a little more blatant that Sickert's style there was something about it that reminded me of the Camden Town nudes.
At the request of my tutor I looked at the following two articles and then re-looked at 'La Hollandaise'.
Tom  Lubbock in The Independent https://www.independent.co.uk/arts-entertainment/art/features/a-closer-look-at-walter-sickerts-taste-for-flesh-744385.html
and another view in The Telegraph
https://www.telegraph.co.uk/culture/art/3669068/Walter-Sickert-Nudes-An-underworld-stripped-bare.html
 After reading the two articles, both along a similar theme discussing how Sickert viewed the women he painted and how he created the tableaus. Fascinated with the the grimier side of life Sickert was obsessed with the takes of Jack the Ripper and the violence of the crimes committed. They held for him a fascination and drew him away from his usual work centering on the music halls and everyday life. he wanted to shock us and where you might initially feel as I did that these paintings are tender almost seductive erotic scenes he has actually created something much darker with sinister undertones. For example I would never had realised that Sickert had deliberately obscured the models faces or that it had been done in a violent manner. On re looking at 'La Hollandaise' again I can see more of the drama of the painting- the woman looks like she has been disturbed and has sat up abruptly. Is there someone at the foot of her bed? Is she being watched, is it a lover, a client or worse? There is a sickly glaze to the skin tone around the face and shoulder. There is nothing fresh about the painting, the sheets look dirty and well used. her body is fleshy and pale and of the same hues as the sheets hinting at a recent interlude. You can't get a good idea of colour and tone online and I only have a printed version to make my commentary on being unable to get into london to view the original again at present. one of the things I see after reading the articles is not that the women are rested or in repose but more that they are resigned to their lives. They lay on beds with blatant displays of their sexuality as if their bodies have become nothing to them other than a commodity something that is available for a price. Sickert has a way of almost brutalising women – they are already laid low by their profession but he has made that knowledge public and exposed them to the world. He has also exposed the men who go to these women, the dark lurking, voyeuristic figures that we see in his paintings such as the figure in 'La Affaire du Camden'   
Lee Maezler 
'Bathroom'
'Place to be' 2013
'Ola verde' 2013
London born British artist Lee Maezler touches on the neglected, the forgotten. The derelict nature of the three paintings that I have chosen to look at appeals to me. They are like forgotten memories, glimpses of the past 'Orla Verde' in particular leads you up the darkened stairs, they are rickety almost broken down, worn. Reminiscent of life's journey we constantly climb and battle through towards the unknown. None of us know what the future holds or what is up at the top of the stairs. I wanted to do a study in Maezler's style so I chose a corner of my living room to work from and completed an A3 study working on stretched watercolour paper that I gave a coating of indigo and burnt umber to give a really deep base tone. I drew up the study using a white pencil and started to work in the mid tones in order to bring the shapes forth. I let the ground work for me.
I am pleased with the end result, it has that slightly hazy quality that Maezler has captured in her 'Bathroom' painting.
Alex Hanna
'Adjacent pill packs'
'Sweet Dreams' 2010-2012
I don't know what it was that caught my attention with Hanna's paintings. His stunning depictions of objects that we might pass by are beautiful in their deceptive complexity. The intricate folds of the pillow case in 'Sweet dreams' rise and fall with a delicate play of light. I also love his discarded pill packets. I have lived with pain more than half my life there are always packets of tablets lying round in my house. The soft tones in this lovely painting struck a cord. In order to understand his painting process I decided to try and work a response. I screwed up a sheet of white paper and then placed in on to a piece of folded paper so that it was on a white background then using a viewfinder I focused in on one section I worked the study in acrylic using white, indigo and burnt umber.
It was a soothing exercise and I lost myself in the intricacies of the folds becoming absorbed in the patterns and tones.
I see a connection between these three artists there is an intimacy to their works they are almost private hidden glimpses of life and I think that is what appeals to me that isolation that they have to them.
https://paper-gallery.co.uk/lisa-wilkens
https://beaston.co.uk/Lee-Maelzer-Dust
https://www.axisweb.org/p/hayleyfield/workset/237984-broken-reeds/
https://londonsartistquarter.org/artist-hub/users/nathan-eastwood/profile
http://www.kerlingallery.com/artists/kathy-prendergast
https://griffingallery.co.uk/artists/tanya-wood
https://www.royalacademy.org.uk/art-artists/name/archie-franks
https://www.saatchigallery.com/artists/mario_rossi.htm
https://www.tate.org.uk/context-comment/articles/lowly-weed-has-its-day